Nothing like simple homemade granola to fill the house with wonderful welcome home aromas! This granola is not too sweet, so you can just enjoy it plain or add some dried fruit to it if you like it a little sweeter. It's filled with oats, walnuts and almonds so it is rich in protein, fiber, and healthy oils. Perfect for breakfast with fresh fruit and yogurt, but remember, because it is calorie-dense (albeit full of nutrients) a little goes a long way, so I recommend the serving size not be any higher than 1/2 cup, which I think is the perfect amount anyway! It's so yummy, I just don't want you to overeat it…because you'll want to!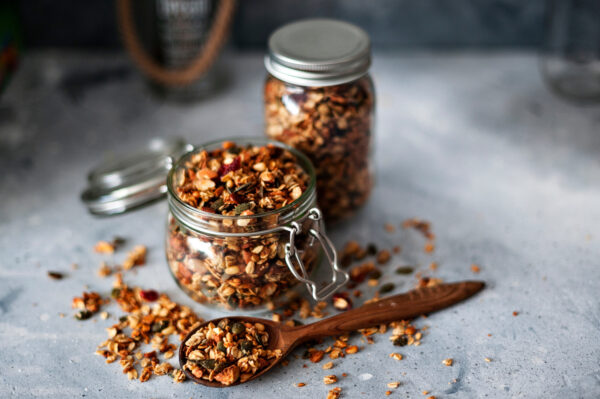 Ingredients
8 cups old fashioned rolled oats
3/4 cup walnuts
3/4 cup almonds (roasted, unsalted)
3/4 cup natural almond butter (unsweetened)
3/4 cup natural honey
1 teaspoon cinnamon
1 cup chopped dried fruit-unsweetened (optional)
Directions
Preheat the oven to 300º F. Place walnuts and almonds in a small food processor and chop briefly-leaving chunks of nuts intact.
Place the oats and chopped nuts in a big bowl and set aside.
Place almond butter and honey in a small pan and heat on the stove for 3-5 minutes to bring to a quick boil, while stirring occasionally, until completely smooth (no clumps!). Pour the hot honey/almond butter mixture over the oats and nuts and stir with a wooden spoon to incorporate well (Use your hands to dig in and make sure!)
Spread the mixture on a cookie sheet in one layer and place in preheated oven for 30 minutes, stirring 2 or 3 times during that time, to make sure there are no clumps. Turn off the oven and keep it in there an additional 15-20 minutes.
Let cool completely (that's when it will become perfectly crisp), add the cinnamon and chopped dried fruit (if using) and mix well before storing in an airtight container.
Note: Please feel free to replace the nuts in this recipe with your favorite nuts or seeds. Just make sure they are raw or freshly roasted and unsalted.
Nutrition Facts per serving (1/2 cup): Calories 229, Sat Fat 1 g, MUFA 5 g, PUFA 4 g, Cholesterol 0 mg, Sodium 3 mg, Potassium 207 mg, Carb 30 g, Fiber 4 g,  Sugar 9g, Protein 7 g.
This article was originally published on NaturallySavvy.com