Nutrition
Here's Your Fat-Blasting 2022 Meal Plan — Eat This Not That
The new year is upon us, and so are all of those lofty promises you made for yourself on New Year's. While it's noble to want to take care of your body and get healthy in the new year, actually living that out can feel a bit daunting. But don't sweat it—we're here again with another fat-blasting meal plan to guide you. Whether you're looking to get lean this year, or you're simply on the hunt for a few nutritious meals to add to your meal plan rotation, we've got you.
This year, we asked our medical expert board members Tammy Lakatos Shames, RDN, CDN, CFT, and Lyssie Lakatos, RDN, CDN, CFT, also known as The Nutrition Twins, to choose some of the most nutritious, delicious meals you can make this year. From satiating high-protein meals to filling snacks and even some sweet desserts, here's a cohesive meal plan you can turn to when you're in need of some healthy meal ideas for your week.
Need even more meal ideas for 2022? Be sure to also check out our list of the 100 Easiest Recipes You Can Make.
Breakfast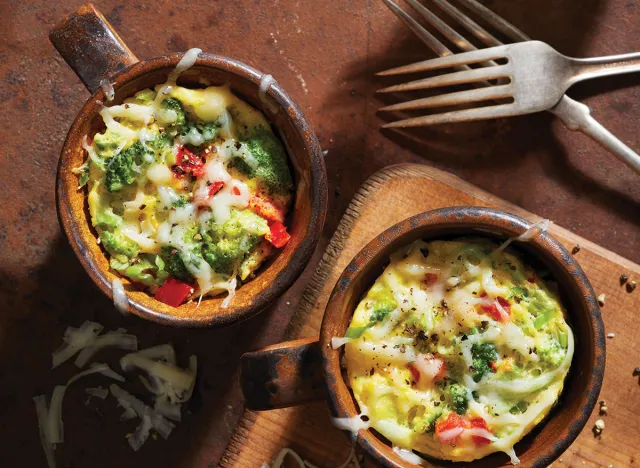 For an easy protein-packed breakfast for one, this egg-in-a-mug is versatile and easy to throw together for busy mornings during the week.
Get our recipe for Broccoli-Cheese Eggs in a Mug.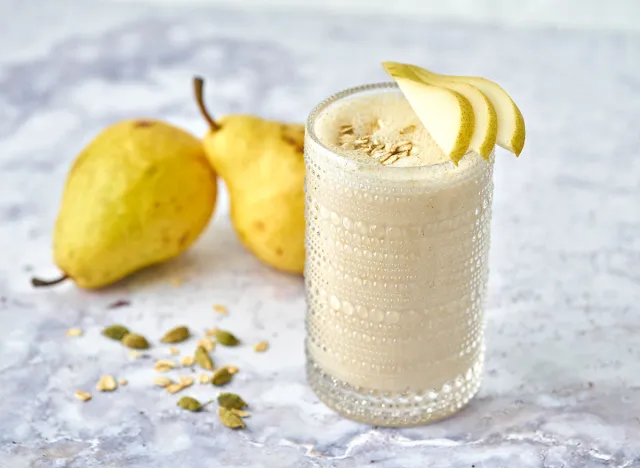 For a tasty smoothie that's a bit different than your usual go-to, turn to this pear cardamom smoothie—packed with gut-healthy fiber thanks to the oats!
Get our recipe for Pear Cardamom Oats Smoothie.
"Made with cottage cheese, 2% Greek yogurt, and eggs that pack in satisfying protein, these whole wheat pancakes also contain bananas and the juice of a lemon, making them far from your typical refined, nutrient-lacking, calorie-loaded pancakes," say The Nutrition Twins. "With only 320 calories, they're the ideal weight loss breakfast. Top with berries or another nutrient-packed fruit to increase the antioxidants and fiber."
Get our recipe for Banana Pancakes.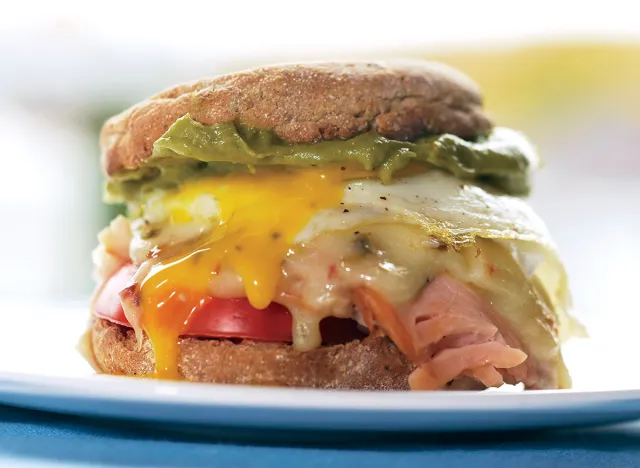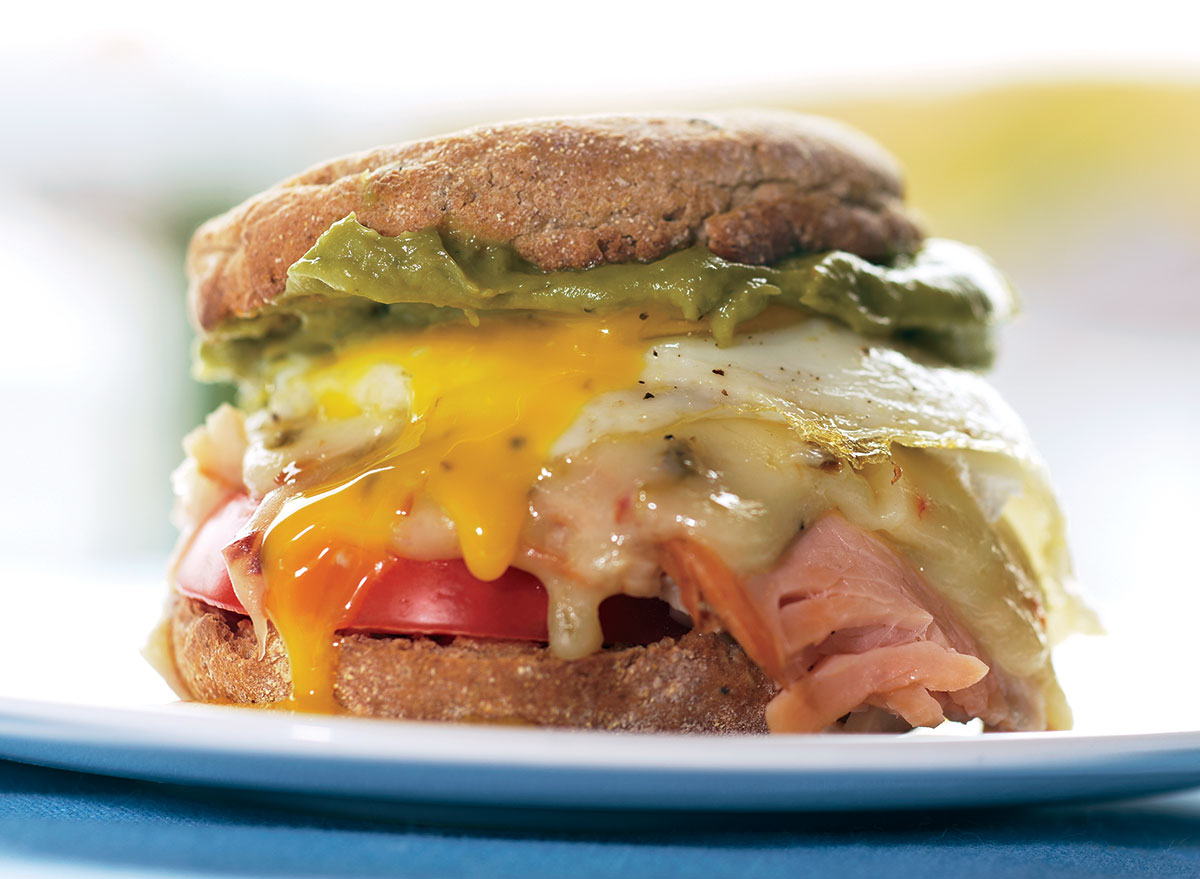 "Few things are more satisfying than a sandwich and this one packs whole grain carbs, protein from eggs, turkey and cheese, plus healthy fat from avocado, all in 380 calories. This kind of hearty satisfaction will get you through to lunch without snacking."
Get our recipe for the Sunrise Sandwich.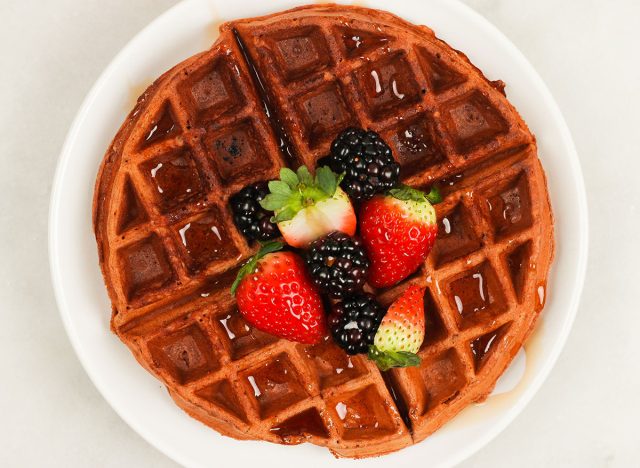 "While most waffles are calorie-bombs that would never be a part of any fat-burning eating plan, these spare the fat and calories and have all the makings of a satisfying breakfast," say The Nutrition Twins. "Eggs rank high on the satiety index scale (a rating of how filling foods are), and oats are packed with soluble fiber, providing long-lasting satisfaction and cholesterol-lowering benefits with their fiber. Plus, the combination of protein from Greek yogurt, milk protein powder, and egg make this a recipe to keep you satisfied for hours. Step up the antioxidants and fiber by topping with berries."
Get our recipe for Protein-Packed Waffles.
Lunch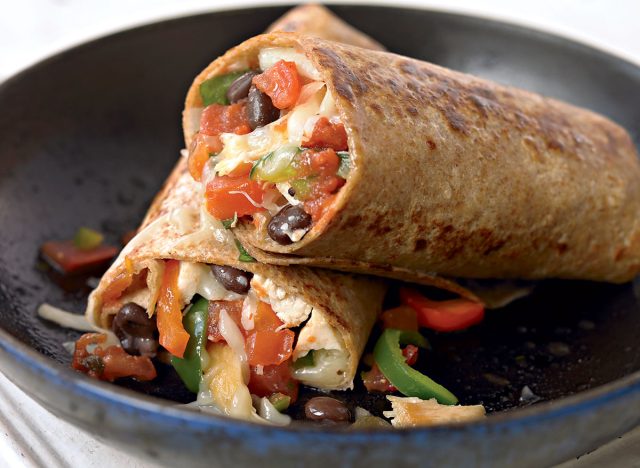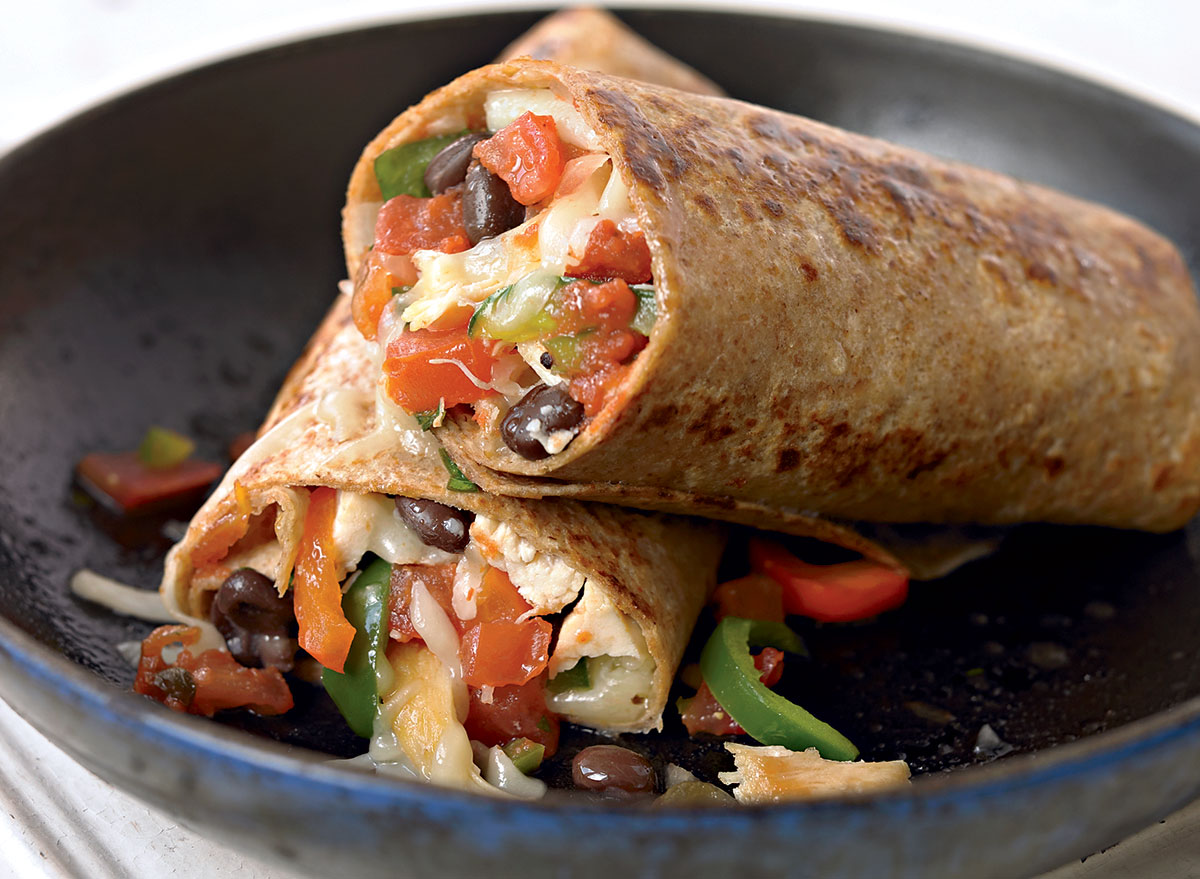 "Packed with healthy ingredients like black beans, onions, bell peppers, lime, and cumin, these burritos have all the makings for a healthy meal—and with only 355 calories," say The Nutrition Twins. "Just be sure to use the chicken breast, low-fat cheese, and go heavy on top by adding extra lettuce, tomatoes, and salsa to increase the nutrients and fiber and to make the meal even more satisfying while keeping the calories low. Sprinkle chopped bell peppers on top to support the body's defenses—a bell pepper has more immune-boosting vitamin C than an orange."
Get our recipe for Chicken Fajita Burritos.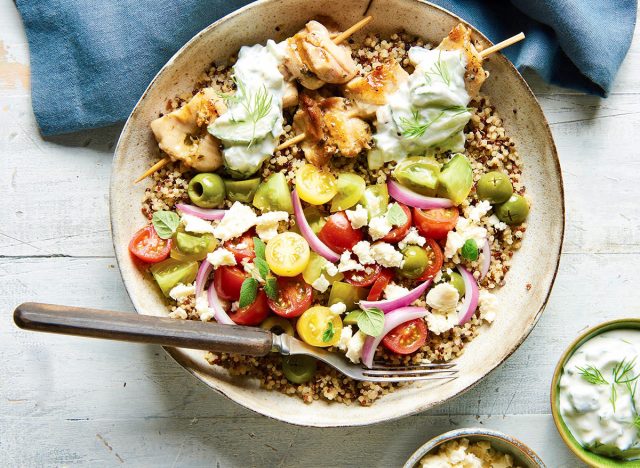 Sick of the same boring lunch salad? This protein-packed meal is the perfect tasty alternative when you need to spice things up.
Get our recipe for Chicken Thigh Tzatziki Bowl.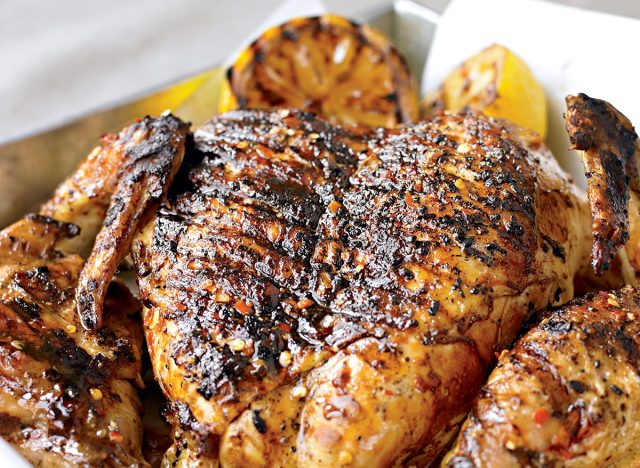 Need something to prep for the week? This recipe cooks an entire chicken—perfect for throwing together any kind of meal!
"This fast and easy recipe provides a boost of protein to keep weight loss hopefuls feeling satisfied," say The Nutrition Twins. "It's only 280 calories, so you can add an energy-revving whole grain like 1 slice whole-wheat bread or 1/2 cup cooked whole wheat pasta or quinoa to boost fiber, antioxidants, and satisfaction. Round it out by adding a couple of cups of steamed veggies."
Get our recipe for Chicken Under a Brick.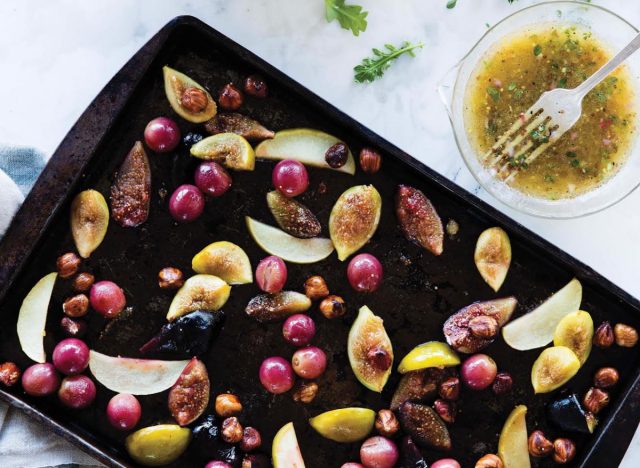 Need a new salad to try? This sweet and savory salad is the perfect lunch treat when you're bored of your usual sad desk salad.
Get our recipe for Roasted Autumn Harvest Salad.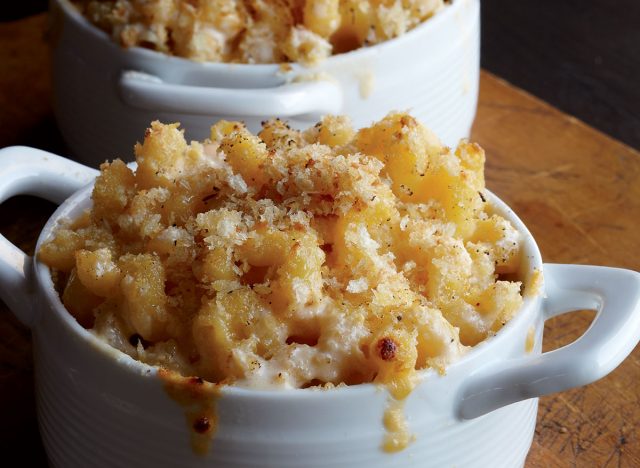 "Anyone trying to lose weight would think mac and cheese would be off-limits, but this version uses Greek yogurt and has just 360 calories, whereas many other versions easily pack 500-plus calories," say The Nutrition Twins. "To really boost the fat-blasting potential, use low-fat cheese and increase the nutrients, fiber and antioxidants by adding tons of vegetables, like steamed broccoli, bell peppers, and cherry tomatoes into the dish—you'll eat the same size portion for fewer calories. Use whole-wheat pasta for more nutrition and fiber."
Get our recipe for Macaroni and Cheese.
Dinner
"This slow-cooker recipe makes the ideal fat-burning dinner with the winning combination of a low-calorie meal (324 calories) with plenty of satisfying fiber from cannellini beans and vegetables (9 grams fiber) and satiating protein from the turkey (34 grams)," say The Nutrition Twins. "We suggest doubling up on the carrots, celery, and adding spinach and other vegetables to really boost fiber and antioxidants."
Get our recipe for Slow Cooker Turkey Cassoulet.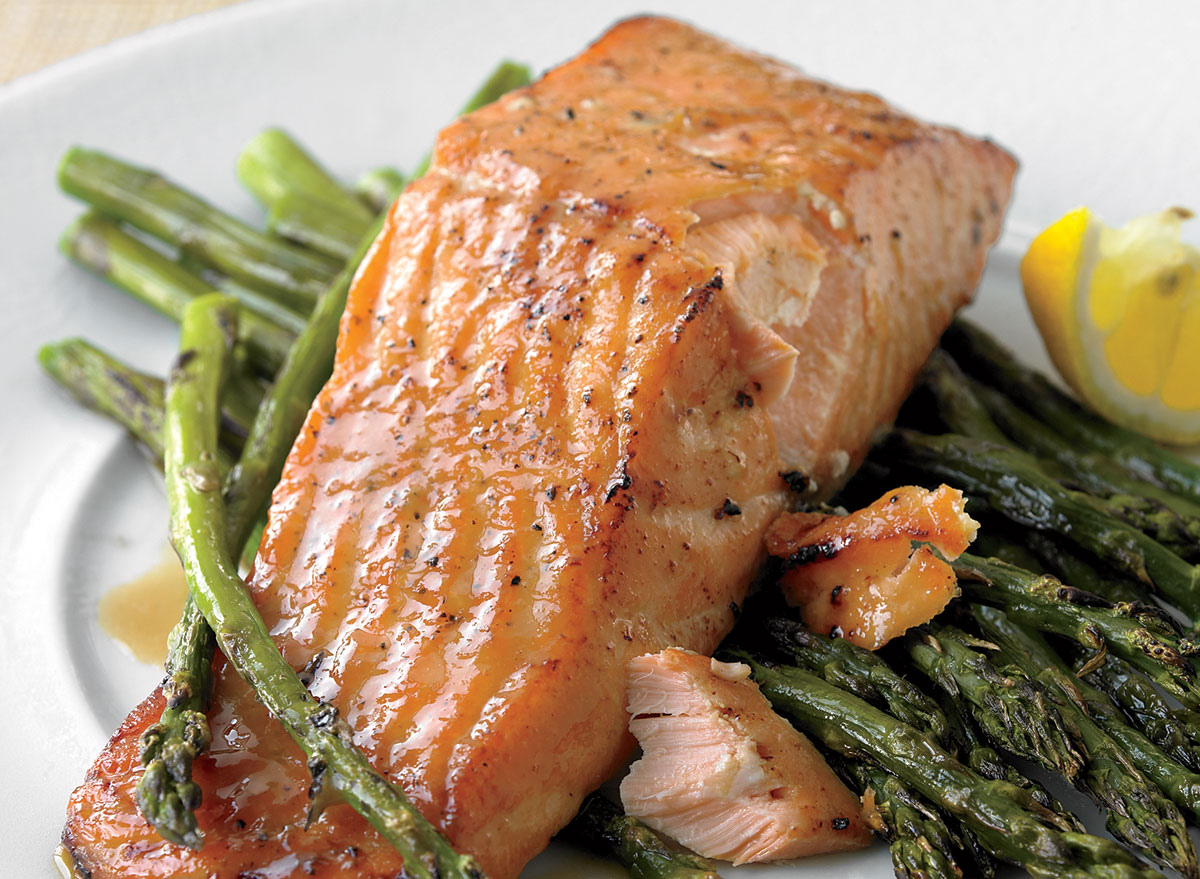 "Salmon is one of the best ways to get inflammation-fighting omega-3 fatty acids, and less inflammation in the body is linked with less body fat," say The Nutrition Twins. "Those anti-inflammatory benefits combined with the satisfaction of this protein-packed dish that's only 370 calories per serving, creates this fat-blasting dinner winner. Add a couple extra cups of steamed vegetables like broccoli, snap peas, and cauliflower to further boost fiber and nutrients. Choose wild salmon when you can to avoid PCBs and other toxins that also create inflammation in the body and that can slow fat burning. The asparagus contains prebiotic fiber to help feed the good bacteria in your gut, which also can have a positive impact on body fat loss."
Get our recipe for Honey-Mustard Glazed Salmon With Roasted Asparagus.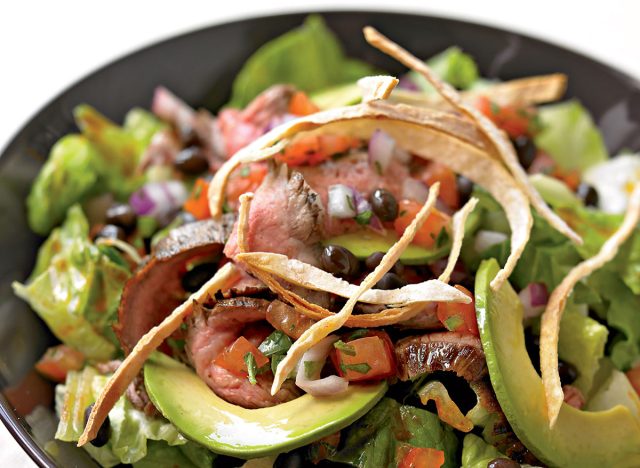 "This low-calorie dinner packs in healthy ingredients that boast nutrients, fiber and protein," say The Nutrition Twins. "The flank steak keeps the salad lean, while the jalapenos, red onions, cilantro, lime, tomatoes, black beans and avocado pack in antioxidants and fiber. The vitamin C in the cilantro, lime and tomatoes enhance the absorption of the iron in the steak. This isn't your typical hum-drum salad, the flavor and nutrient combinations make it a weight loss superstar."
Get our recipe for Grilled Mexican Steak Salad.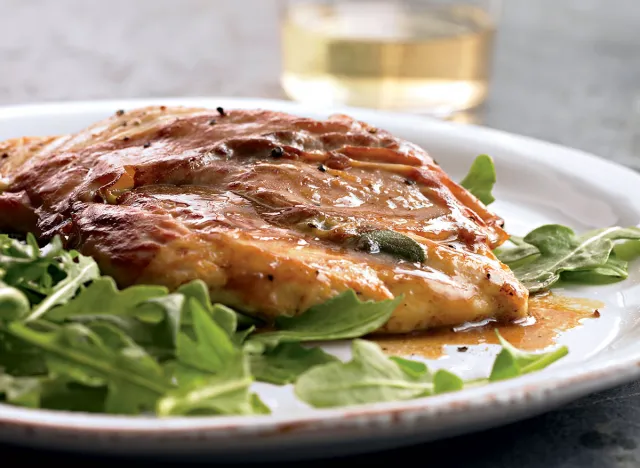 "Italian cooking and weight loss dinner don't usually go together, but this recipe proves otherwise," say The Nutrition Twins. "Wrapped in prosciutto, this Italian dish seems like a decadent splurge, but with only 280 calories, it's ideal for weight loss since it will prevent you from feeling deprived and possibly overeating something decadent later. Boost fiber, antioxidants and nutrients by adding a few cups of vegetables to the stock while cooking to pick up the flavor of the dish without excess calories. You'll even have calories to spare, so feel free to add a whole grain roll."
Get our recipe for Simple Chicken Scaloppine.
"While scallops feel indulgent, they are a lean, healthy protein and they fall low on the mercury scale since they aren't large predators, like other fish, so you can have them several nights a week if you'd like," say The Nutrition Twins. "This simple-to-make recipe is only 200 calories, so you've got a couple hundred calories to spare. Round it out with a large colorful salad and a small baked potato (and you can even add a dollop of sour cream), you'll pack in antioxidants and energy-revving good-for-you carbs."
Get our recipe for Easy Scallops with Chimichurri.
"All you need for this dish is chicken, wine and veggies (well, load up on extra, extra veggies), and you can call it a day—it's super easy to make," say The Nutrition Twins. "And if you don't have a slow cooker, no problem, combine everything in a pot on the stovetop or put it in a low oven. Either way you'll get a satisfying meal with only 365 calories. Just be sure to go to town adding extra veggies for nutrients, fiber, and to fill up with fewer calories. Try carrots, parsnips, onions, mushrooms and wilted greens."
Get our recipe for Classic Slow Cooker Chicken Recipe in Red Wine.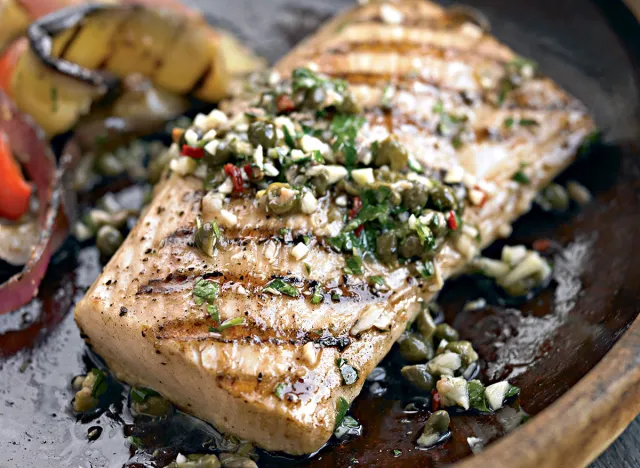 "With only 280 calories, this easy to make fish recipe helps you to meet the recommended minimum of two servings of fish a week, boosting your omega-3 fat intake," say The Nutrition Twins. "Double up on the salsa verde for extra fiber and antioxidants and serve it on a bed of quinoa and veggies for some complex carbohydrates and extra fiber."
Get our recipe for Grilled Mahi Mahi Salsa Verde.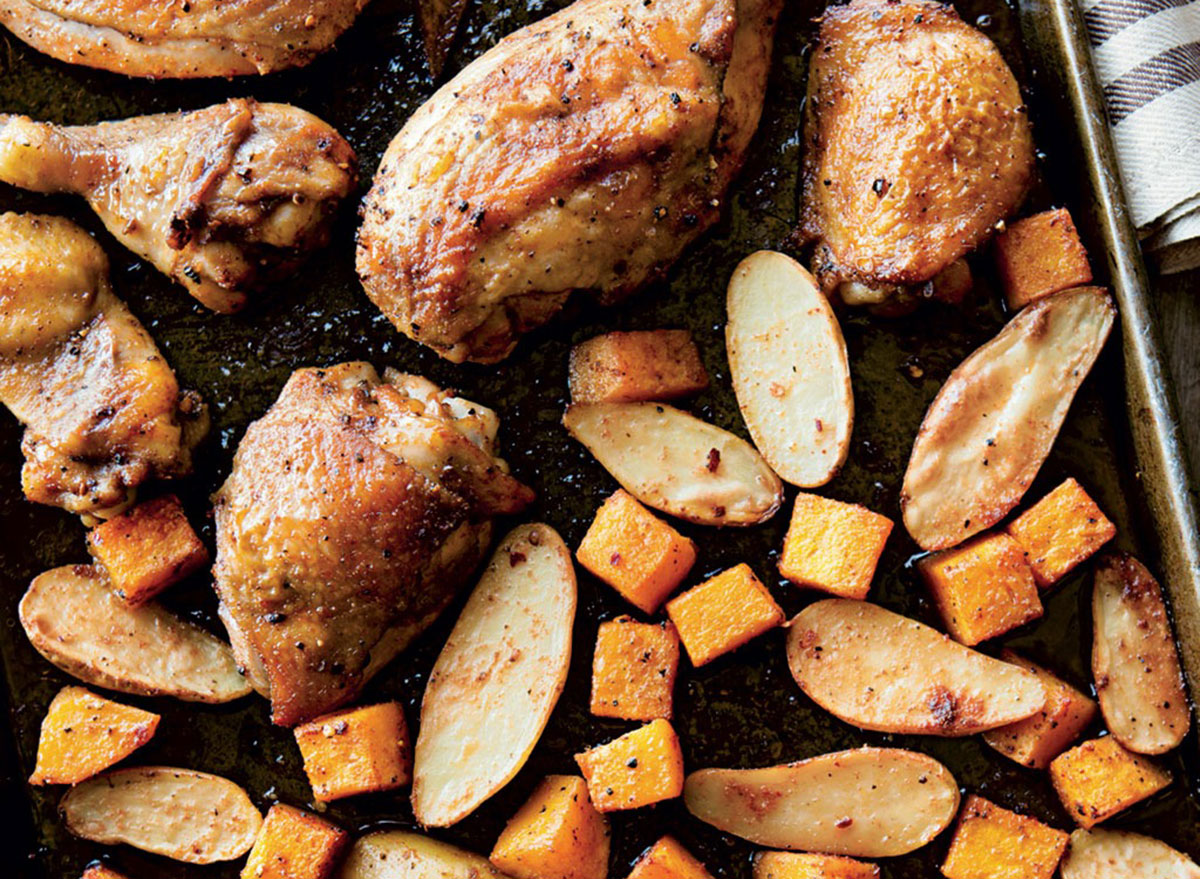 Sheet pan dinners can always come to the rescue when you need a healthy, easy weeknight meal—and this one has it all. Between the crispy roasted chicken and potatoes, you'll feel full and satisfied for the rest of the night.
Get our recipe for Roast Chicken and Vegetables with Fall Spices.
Friday pizza night just got a whole lot healthier with this deliciously flavorful whole-wheat pie! Pop open a bottle of wine and enjoy cooking this on a slow weekend evening.
Get our recipe for Whole-Wheat Pizza with Gruyère, Pancetta, and Caramelized Onions.
"Lighten up this version even more and make it healthier by cutting the pasta in half and adding a few cups of broccoli, mushrooms, bell peppers, cauliflower and a thawed box of frozen spinach and using whole wheat pasta or chickpea pasta to increase protein, fiber and nutrients," say The Nutrition Twins. "Swap half the cheese for low fat cheese. This lower calorie ziti will have even fewer calories than the 410 in the 'lightened up' recipe."
Get our recipe for Baked Ziti.
Snacks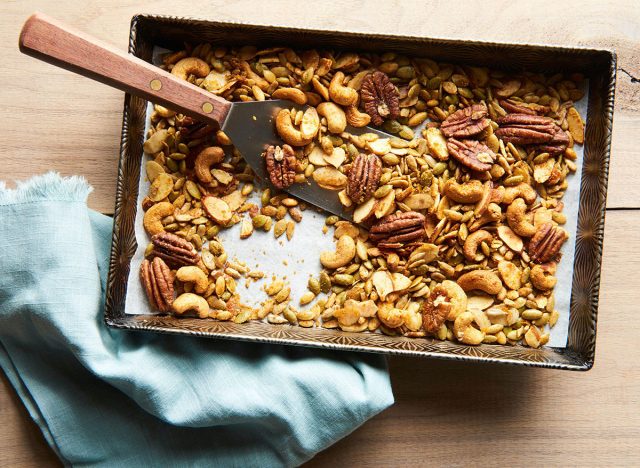 It's salty, it's crunchy, it's filling—what more could you ask for when looking for a satiating afternoon snack?
Get our recipe for Seasoned Nut Mix.
This refreshing snack is the perfect sweet treat in the afternoon, or makes for a delicious summery appetizer for a crowd!
Get our recipe for Caprese Skewers.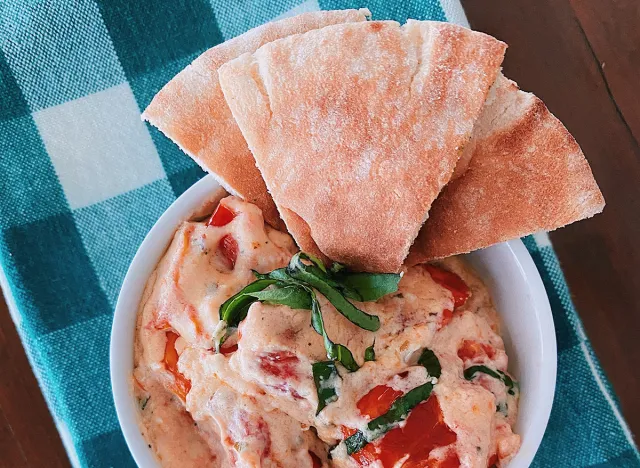 It's our take on that famous baked feta pasta trend on TikTok—but we made it a healthy dip! Dip whole-wheat pita or fresh cut veggies for a healthy take on a classic meal.
Get our recipe for Baked Cherry Tomato & Feta Dip.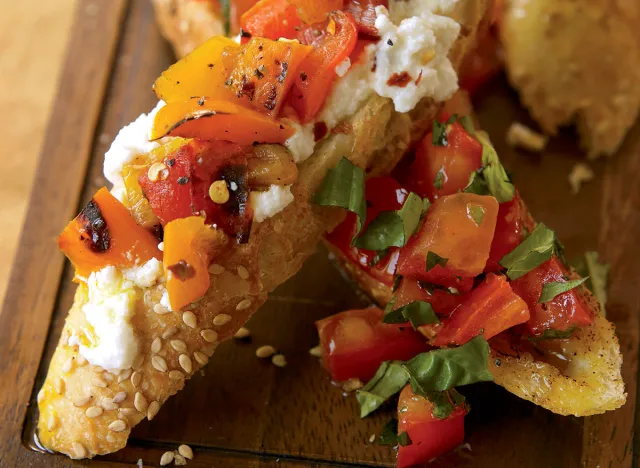 "Topped with tomatoes, garlic and basil, bruschetta is a nutrient powerhouse," say The Nutrition Twins. "The lycopene in tomatoes eases inflammation, boosts immunity, protects the skin from the suns' harmful rays and fights against cancer. To make the bruschetta more satisfying, top it with canned chickpeas sautéed with tomatoes and diced jalapeño for real staying power from protein and fiber. Chickpeas are an excellent source of zinc and copper and ultra-important for the growth and function of immune cells."
Get our recipe for Italian Bruschetta.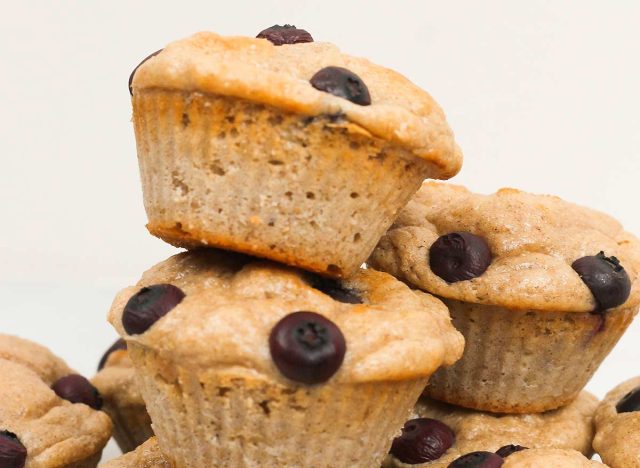 "When you're trying to blast fat, half the battle is staying on track," say The Nutrition Twins. "Having quick, easy and tempting satisfying snacks like these sweet protein muffins make that a breeze! Make a batch of these over the weekend and grab one or two for a snack. You'll dodge the vending machine and stay satisfied for hours."
Get our recipe for High-Protein Muffins.
Dessert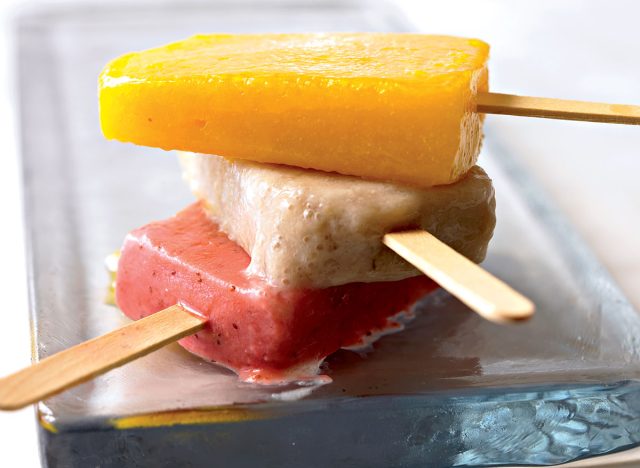 "There are few things more fun to eat than food on a stick," say The Nutrition Twins. "This frozen treat on a stick satisfies a sweet craving with just 80 calories, hardly any fat and anti-inflammatory goodness from fruit, which helps to make your body a more efficient fat-blasting machine. Less inflammation in your body equals increased fat burning, and these pops, that you can easily make by tossing the ingredients in a blender, are your ticket."
Get our recipe for Fruit-Packed Mexican Paleta.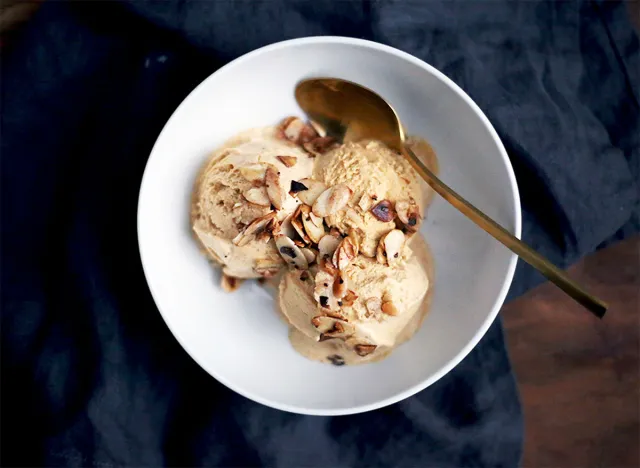 If you're a fan of "nice" cream and you're looking for something creapy to enjoy that isn't dairy-based, this banana coconut dessert is the ideal candidate for your freezer!
Get our recipe for Banana Coconut Ice Cream.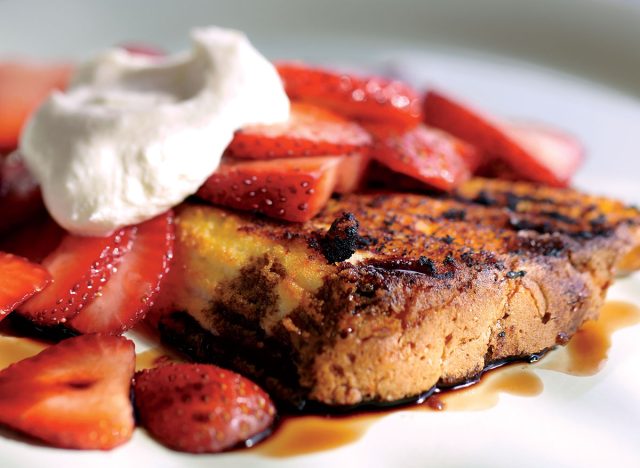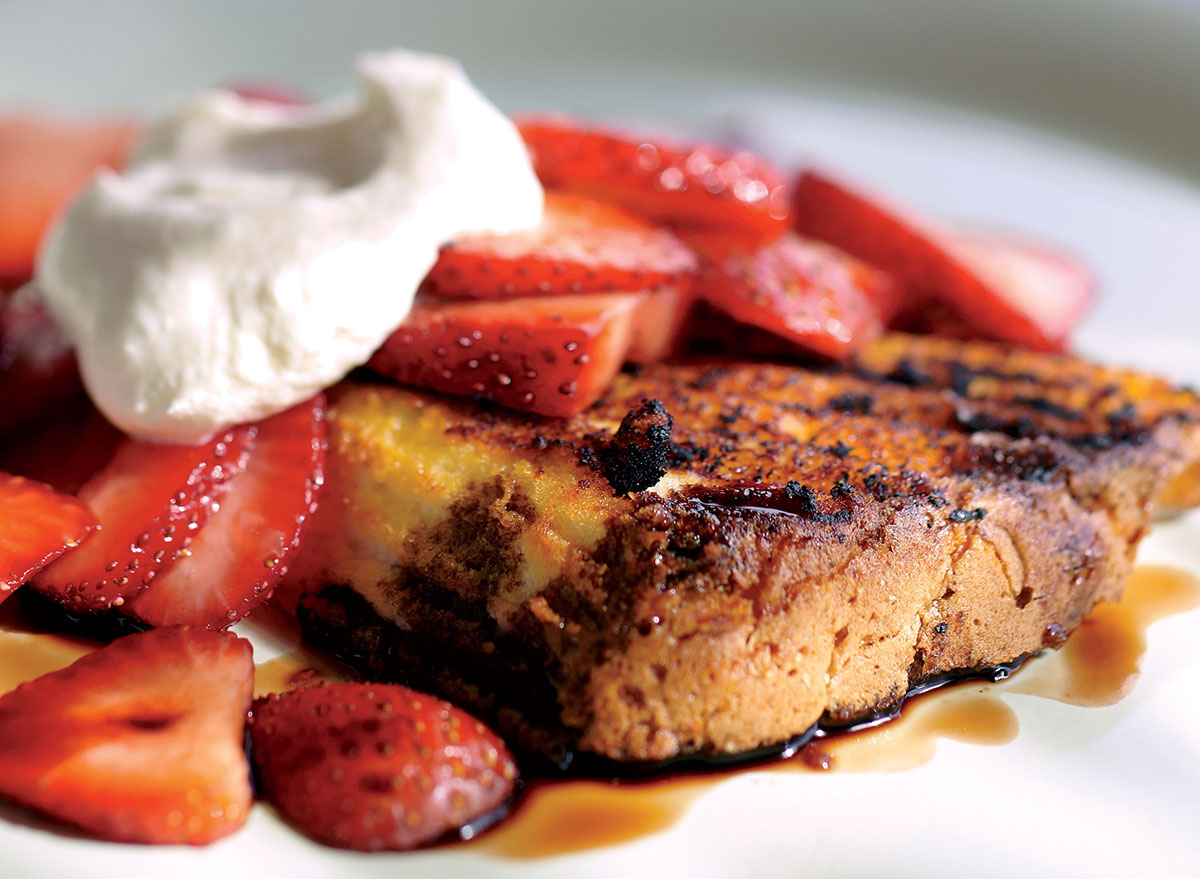 "You'd never believe this sweet and savory, charred-on-the-grill shortcake is low in calories," say The Nutrition Twins. "And just in case your taste buds weren't already in disbelief, strawberries soaked in balsamic vinegar top this number off and squash the need for your taste buds to look beyond this indulgent-tasting fat and saturated fat-free angel food cake."
Get our recipe for Grilled Strawberry Shortcake with Balsamic.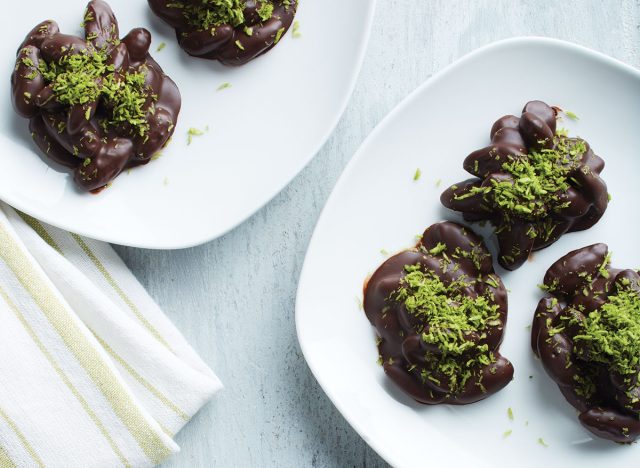 Did you know that eating dark chocolate can actually make you happier and healthier? Sounds like you need to prep a batch of these dark chocolate-covered almond clusters for dessert!
Get our recipe for Dark Chocolate-Covered Almond Clusters With Coconut-Matcha Sprinkle.
"Let's face it, you can never go wrong when you serve healthy fruit as dessert, it's going to be a winner in any weight loss plan," say The Nutrition Twins. "With only 140 calories and packed with antioxidants, this dessert is pretty high up on the chart when it comes to health. Made with vitamin-C rich peaches, pineapple, watermelon and fresh mint, the rich Greek yogurt only makes it even healthier with a boost of protein and calcium."
Get our recipe for Savory-Sweet Grilled Fruit Kebabs With Yogurt and Honey.