pkl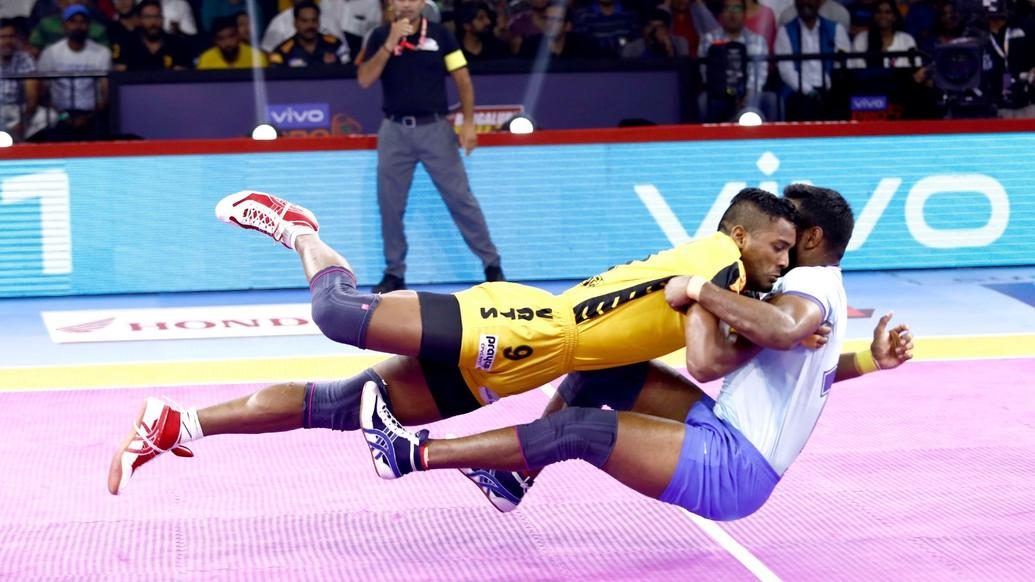 Here are five instances where vivo Pro Kabaddi stars showed how they aren't just fit but Kabaddi Fit.
Kabaddi as a sport has always demanded utmost discipline, hard work and perseverance from the athletes who aspire to reach the peak. Today we rewind the clock and take you back to when our vivo Pro Kabaddi stars stole the show by not just being Fit, but 'Kabaddi Fit'.
1) When Pardeep Narwal shook the world with his 8-point wonder raid: 'Record-Breaker' Pardeep Narwal has been ruling the charts since his debut in vivo Pro Kabaddi Season 2. Apart from his sensational raiding skills, Pardeep is also quite agile when it comes to escaping tackles from defenders – his speed in changing directions often leaving the defenders in a state of worry. In vivo Pro Kabaddi Season 5, Pardeep Narwal pulled off an exceptional 8-point raid against Haryana Steelers, a fine example of what it means to be Kabaddi Fit!
2) When Pawan Sehrawat's 6-feet Lion Jump made him the Hi-Flyer: When it comes to being Kabaddi Fit, breathtaking moves on the mat are a given. Pawan Sehrawat is the perfect example as he established himself as one of the fittest athletes in the history of vivo Pro Kabaddi. What sets him apart is his natural athleticism which helps him to get past the defenders easily. In PKL Season 6, Pawan Sehrawat took his athleticism to another level with his iconic lion jump. His 6-feet lion jump over Patna Pirates defence remains one of the most breathtaking moments of PKL history.
3) When Siddharth Desai muscled through the Steelers defence in some style: In his debut vivo Pro Kabaddi Season, scored 218 raid points to announce his arrival. His superhuman strength and immense fitness are what provides him with an edge over all the other raiders, making him not just fit but Kabaddi Fit. In vivo Pro Kabaddi Season 6, the U Mumba raider took the Haryana Steelers defence to the cleaners. His magical 6-point raid shows how his physical strength allows him to dominate the defenders on the mat.
4) When Nitesh Kumar stopped the Naveen Express: UP Yoddha's skipper, Nitesh Kumar, is the only defender to score 100 tackle points in a single season – a testimony to his impeccable fitness. He achieved that milestone in vivo Pro Kabaddi Season 6. In the same season, he showed us why he is one of the best emerging players in the league. Nitesh Kumar's grip and arm strength make sure the raiders don't escape when he grabs their ankle. One of his most remembered examples of being Kabaddi Fit was when he pulled back an in-form Naveen Kumar to bag two crucial points for his team.
5) When Sandeep Narwal pulled off the most astounding tackle in vivo Pro Kabaddi: With 249 raid points and 310 tackle points under his belt, Sandeep Narwal is one of the most lethal all-rounders in the vivo Pro Kabaddi history. In season 5, Sandeep was a vital cog in the Puneri Paltan outfit along with players like Deepak Hooda. This incredible wrestling grapple shows how Sandeep can pin down the raiders at his will. His brute force and grappling techniques are one of the best in the league. In many senses the term Kabaddi Fit and Sandeep are almost synonymous.